Do you need a reliable workwear, safety product & PPE provider in South Yorkshire?
The number one complaint about suppliers of workwear and PPE is the level of service or lack thereof.
Poor communication, long turnaround times, mistakes, supply issues, the list goes on.
All these issues cause frustration and anger in the client, and most can be resolved with a little extra thought on the supplier's part.
The question is, why don't they?
Where to buy PPE & Workwear in Sheffield, Rotherham, Doncaster
Are you looking for a more reliable personal protective equipment and work clothing provider in the Sheffield, Rotherham, Doncaster or South Yorkshire area?
A company that can deliver real performance and value for your business at a time when your focus is on more pressing matters, like survival.
Buying PPE and certain workwear products can be a mission on its own, so it's essential to find a provider that can alleviate some of the usual frustrations.
A company that goes the extra mile to help you avoid some of the main complaints listed above.
Do you need to buy your safety workwear & PPE in bulk?
How would you rate your current safety workwear clothing and PPE supplier?
Are they working for you, or are they seemingly working against you?
You know how it goes; when you need someone to fix an issue, you need it done there and then.
It's often easier if they are locally based, although it's not always a guarantee of the best service level in this day and age.
But if they are just down the road, you can, in theory, skip waiting on deliveries and just pick up what you need safely.
Assuming they have the safety shoes, high visibility clothing, steel toe cap boots, gloves, RPE, workwear trousers, helmets etc in stock ready.
In theory, this is the critical part, but sometimes it's easier to deal with local companies when sourcing products like work boots, workwear clothing, PPE, face masks, Hi-Vis, uniforms, work trousers and even printed T-Shirts.
Working with local providers and suppliers can give some businesses a feeling of more assurance or control, especially if they have been messed about or mismanaged in the past.
This feeling is understandable at a time with so much uncertainty in the world.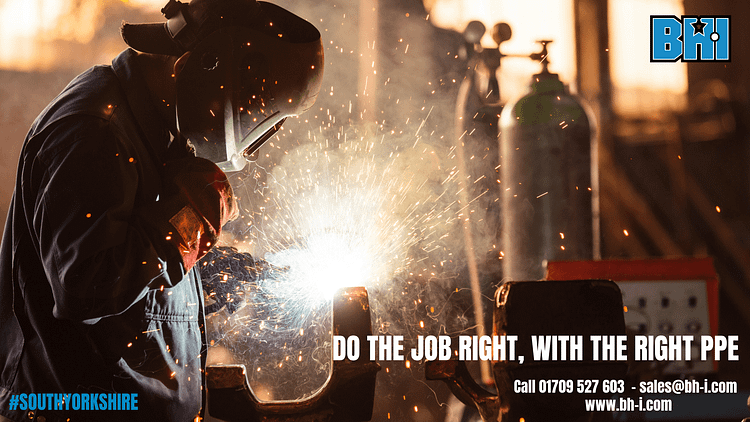 Buy the right PPE, Workwear, Work Boots, Polo Shirts, Hi-Vis easily in South Yorkshire
If your company is based in South Yorkshire and needs to make buying personal protective equipment and work clothing more straightforward and more effective, it may be worth your time to call BHI Supplies.
Our job is to make the sourcing and buying process simple, easy, and more effective for our clients.
Time is the most precious resource we have as it's non-renewable so, would it not be better for someone else to do that leg work?
If that provider could carry the load, then present the choices in a good, better, best format, would that not save a great deal of effort?
Even if you know what products you have used before, it may be worth looking to see if there are alternatives that can offer your business better cost savings in time, energy, and money.
We are set up to take that pressure off our clients to deliver more value, backed up with the data to prove it.
You don't need to take our word for it, we can prove it to you.
Right now, you can make an argument that your time is better spent on the survival of your business rather than looking through dozens or even hundreds of products trying to choose the best work clothing and protective equipment for your needs.
If you are not happy with the level of service you are currently receiving, we can change that for the better.
Believe it or not, while you are buying the PPE, workwear, uniforms, and safety products, you are actually paying for the support and service from the suppliers.
To put it another way, you're paying to hedge against pain points and frustrations.
A good provider is like a good pain killer – they should be effective and preventative to improve the situation for you.
Think about your own business, whether you are a buyer or an owner.
What would you pay to avoid some of the negative experiences regularly repeating?
What would you think if we said you could pay a little more to save a lot more in terms of time, energy and money?
Doubtful?
We can show you how, so you don't need to take our word for it.
How to make buying workwear & PPE in bulk easy
BHI would like to keep the whole process in proportion using mechanisms to make the process simple, easy, and effective.
Once you sign up with BHI Supplies, we will build you the solution to make ordering simple, handling easy, and reporting effective.
If you place regular large orders of new uniforms, work boots, PPE, and workwear, we have ready-made solutions to take away the pain of mistakes and people not getting the right kit.
We have systems in place to dispatch to multiple locations or operational job sites.
We've even created trackable orders to be sent out to temporary locations so workers don't have to travel to a central point to pick up their PPE.
The main philosophy of BHI is to give you more useful information to make more informed choices which lead to better buying decisions and greater costs savings.
We want you to buy the right products for your requirements at the best prices to deliver the performance and, therefore, value your business needs.
In short, BHI will help make buying PPE & Workwear Simple, Easy & Effective.
Call 01709 527 603
Email sales@bh-i.com
BHI Supplies
Follow our YouTube channel for the latest videos
Read the latest news on what's happening with PPE & workwear in the UK for Spring 2021