With winter almost here, do you have enough rock salt, grit and de-icers for your business?
As we enter the winter months, the cold and frosty mornings can lead us towards chaos.
Do you have enough rock salt, grit, shovels, spreaders and resources to manage?
It's not just at home, where you need to get up 20 minutes earlier to defrost the windscreen. Businesses need to make sure they can operate and function in relative safety by utilising the right products and deploying them preemptively.
Requirements for industrial-scale de-icers become essential even in the lightest dusting of snow and ice due to risk assessments and business operations costs.
The need to de-ice road surfaces and prevent ice from forming is essential for many businesses, not just the customer facing ones.
Retail parks, shopping centres and pedestrian precincts are the obvious locals, but many operations need to keep loading bays, transport lanes and pathways clear too.
Yet every winter, the demand for reliable road salt, grit, rock salt and shovels goes through the roof, leaving many businesses without the capability to remove the ice from their operational site effectively.
The demand far outweighs the available supply almost every year, which drives up the price to the point people may as well trade in it instead of bitcoin!
Why?
The simple reason is everyone looks to buy rocksalt, de-icer, gritters, grit bins, shovels, etc., at the exact moment in time, after the frost, ice, or snow arrives!
Couple this with local authorities taking over salt mines and the mines total salt production for use on the road networks.
Commandeering of the mines happens across the UK, leaving private supplies depleted with limited chance of replenishment and the spectre of price gauging.
Local authorities act right around the time the first significant winter weather hits the ground, which means you're not just competing with other businesses for the rock salt and grit. You're also competing with councils for the very supply they control, which is why prices soar through the roof.
The main question your business needs to ask right now, today, is:
Do you have enough rock salt and grit for the winter?
The casual response will be something like "yeah, I'm alright, pal", but for many, the answer is an overwhelming "no"!
Not because they like to play fast and loose with the weather, but because many buyers and owners don't act until there is a requirement.
Why buy rock salt if there is no immediate need, right?
This question is one that's tinged with regret, especially when you can't even buy a small pot of table salt at the local shop.
Hindsight eh? Coulda, woulda, shoulda!
Think of it this way, have you ever been caught short when you need something and can't get it? What would you do to fix it?
What would you pay to resolve the issue?
Now, imagine that feeling and someone saying to you, months in advance, "I can help you save all that grief, that wasted energy and all that money".
Just how many pints would you buy them?
We would even go further and make the argument that buying rock salt in bulk during the summer or autumn is one of the most prudent purchasers your business can make.
Why?
What happens when your business faces an essential requirement for rocksalt, and you cannot get any for love nor money?
How much will that impact cost?
With supplies chains already "broken", do you really need to add something else to mix that can cost you much more than any outlay for salt before the weather hits?
This question should be front and centre of your mind right now!
Don't let price points fool you – buying certain products should be about cost savings, value for money, and supply when you need it.
Don't make the mistake of getting caught up in chasing false economies.
Okay, that's the preachy bit over.
Let's look at the headline question:
Which de-icer is best? Rock salt, grit or elbow grease?
At the time of writing, people will be looking on search engines for:
"rock salt", "grit salt", "de-icers", "white de-icing salt", "spreading salt", "salt that melts the ice", "buy rock salt near me", "gritters", "snow shovels", "grit bins"
and many other variations on these themes.
But which one or ones are the best?
We're not going to get into the composition and chemical structure of brown vs white rock salt or the main differences between artificial ice melts and organic mined salts.
The only question that matters is; What does my business need to clear snow and ice off surfaces?
Unless you have a specific biological need (animal proximity), they will all do the job of melting ice to a greater or lesser degree.
It all depends on requirements, available supply and the budget you have to get the job done.
Regardless of your choices, you may need some elbow grease or maybe a vehicle that can remove the snow and slush away from the area to reduce the chances of melt and ice reforming.
It can be a seemingly never-ending job if it rains or snows – like painting the Forth bridge.
Once you've done one run, you may have to restart the job again.
This is why salt supplies are depleted so quickly, you may think a few bags of 20kg grit will be enough, but it all depends on the conditions.
Once you spread the salt, manually or with a spreader, it will get to work in reverting the ice back to water which dissipates and drains away.
The draining also removes some residual salt, leaving the surface susceptible to icing back over, especially at night.
Even after the surfaces have been cleared or look like salt/grit is still visible, it may need more spreading to offset further rain or snow.
In our experience, you may need to buy more than enough salt or grit to cope with the oncoming winter and to keep (dry and protected) for the next winter as a fail-safe.
You could buy just enough for a few weeks, but then you run the risk of supply disruptions and price rises.
It may sound easy as we're selling the rock salt, but it's better to have too much and not need it this winter than it is to not have enough and be caught short.
For this reason, we would advise looking at pallet loads of 20kg brown salt, or if you are a larger business with multiple operational sites, we would recommend buying rock salt in bulk with our 850kg bags.
You can pick up 20kg bags of brown rock salt from £3.50 ex VAT plus shipping and the 850kg bags of brown salt from £135.00 ex VAT plus shipping.
At the time of writing, we have excellent stocks. We can easily supply most requirements in Sheffield, Rotherham, Doncaster, and South Yorkshire – weather dependent.
We can, of course, supply most of the UK with enough notice as the other issue you may well be aware of is the transportation and "supply chain".
These last couple of years have tested the UK's infrastructure and transportation industries to the point of destruction.
Securing the salt quantities is one challenge – the next challenge is securing the carriage and transport.
Bear in mind that things can change in seconds – as we stated above, you're not just competing with other businesses, you're also competing with local authorities.
If you wait until you need the rocksalt, you could have access to the salt but no access to get the product to your location.
For example, we've been on hold to confirm the carriage for clients only to be informed that the transport slot has gone, and this is before the weather closes specific routes and roads.
It's a seller's market, and people will gazump whenever they can – another great reason to look at buying your salt supplies ASAP.
Looking for grit salt, grit bins, de-icing products at great prices?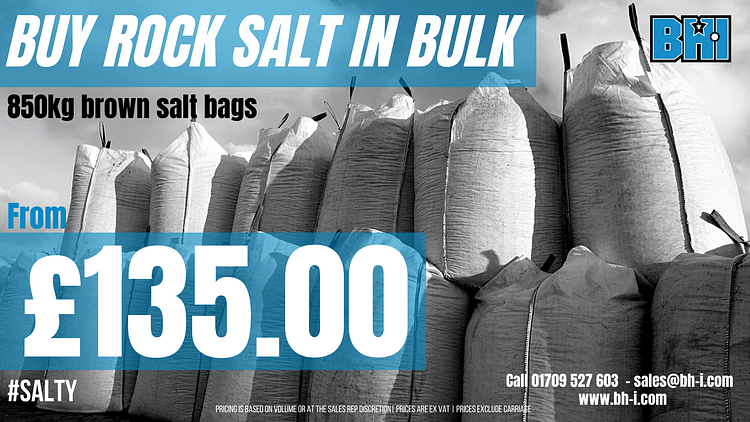 Keep in mind there are constants and variables at play here, and you're in the position to make decisions that can save you a great deal of time, energy and money.
If you can act today, do it because the territory may change under your feet in seconds.
If you need to top up or replenish your rock salt supplies, we would recommend you act soon as the winter in 2021/2022 may well be a beast!
Even if you don't use BHI Supplies, we would still recommend you get in touch with your usual supplier to stock up, just in case.
We can help advise you on storage as some suppliers leave out their "salt mountains" all year round, which can severely degrade the efficacy costing you a great of time, energy and money.
If you want a comparison to work from BHI Supplies are offering 20kg bags of brown rock salt at £3.50 ex VAT per bag plus shipping.
Bulk order rock salt | 850kg bags
We are taking orders now for the 850kg bags of brown rock salt priced from £135.00 ex VAT per bag plus shipping.
Carriage needs to be pre-booked and secured, so it's advisable not to wait as it is anticipated for these prices to rise as we get closer to harsher weather.
With Christmas just around the corner and storm Arwen dropping a load of snow over the UK, this could well be a taste of things to come.
Judging how the last couple of years have been for business, would it be a surprise if this winter turned out to be the worst for snow and ice since records began?
If it is, do you really want to be feeling salty that you didn't make the call earlier?
Or will you be happy shovelling the snow instead of driving your business forward?
Call BHI – we'll make buying rock salt Simple, Easy & Effective.
01709 527 603 – option 1 for sales
Email sales@bh-i.com