What disposable gloves are best, Nitrile or Latex?
This question is quite important right now for several critical reasons and not all revolve around the virus.
Supplies of disposable nitrile gloves are stabilising in the UK, but we still see extreme prices differences.
This situation may cause some people to pay higher prices or potentially buy the wrong types of gloves for their needs.
Hopefully, we can shine a little light on these issues with some useful information to help you make more informed choices, which should lead to better buying decisions.
Right now, many people and businesses are being advised to buy disposable gloves, but which gloves are the best, latex or Nitrile?
Are nitrile gloves worth the extra money?
What's the difference between latex and nitrile gloves?
Don't worry if you're already thinking "I just want to buy the right gloves", you're not alone. Hopefully, we can answer some of your questions in this post, but if you don't have the time to read the whole thing (and who does, right?) you can call us on 01709 527 603, and we'll do the legwork for you.
We aim to help you buy the right products for your business to save you time and money.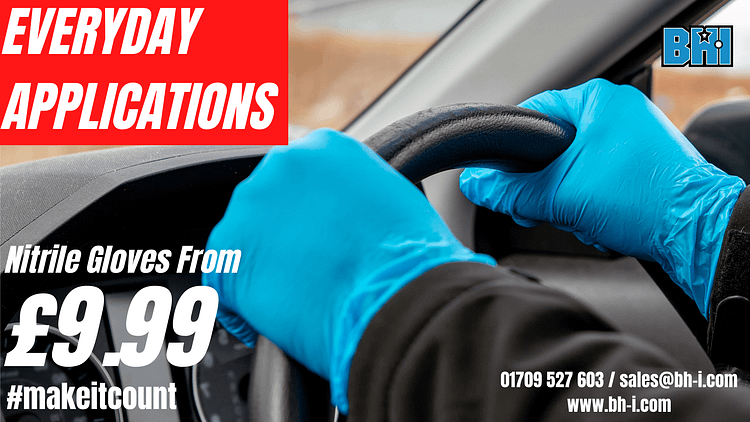 What are the best disposable gloves, nitrile or latex?
This is an important question because depending on your need's, nitrile gloves may be the best option, and for others, latex gloves may be the right way to go.
So, to keep things simple, easy, and effective for you, your choices depend on how much time you have to research the products and to know what the limitations are so you can choose with confidence.
You have articles like this one, videos and e-commerce websites to look over to help with that.
The downside is, do you have that amount of time?
Even if you go straight to a website to look at the glove products on offer you may be faced with 10, 20 or more products to choose from and realistically you will only have the price as a guide.
Is that the best way to choose the right disposable glove for your specific requirements?
Maybe, but in a lot of cases, this is not the most effective way to go.
As mentioned above, it may help to call and speak with the supplier. They should be able to take down the details of your requirements, do the leg work for you, then present the best disposable glove options.
You can then choose from a simplified list of the right glove products for your situation.
Factors to consider before you buy either latex or nitrile gloves are supply lines, pricing, allergic reactions, durability, performance, and value.
We will cover these further in this post.
Buy the right type of disposable gloves first time around
The important thing here is to help save you time without looking through lots of websites and reading articles when there are more pressing matters to tackle, like making money.
Calling an effective supplier to help guide you to the best disposable glove options, can save a great deal of effort and hopefully, some significant money.
If we can help, you can contact BHI on 01709 527 603 or email us at sales@bh-i.com with your details, and we will call you back.
Right, let's get to it!
At the time of writing, the virus situation is a cause of concern and has impacted a lot of PPE products across the globe.
Supplies of disposable nitrile gloves were hit hard as the demand skyrocketed with stocks being quickly exhausted.
In fact, factories in Malaysia (the largest manufacturing country for nitrile gloves and products) were quickly taken over by the state to focus on specific product manufacture to help with the global demand.
As a result of the nitrile glove shortage, the global demand quickly shifted to latex and even vinyl gloves which again quickly depleted stocks.
Trying to buy certain types of disposable gloves in February, March, April, May and June 2020 became mission impossible for many private companies.
There was not enough product to meet the demand the virus had caused.
Slowly the supply lines began to replenish to levels that could cope with an increase in demand.
It wasn't just front-line services like the NHS that could buy disposable nitrile gloves. Companies could access the stocks to help them manage the reopening of their businesses.
But, as you will already know, the prices of these gloves were a lot higher than they were before the virus hit, and this has caused some people to question whether they need to buy nitrile gloves or whether they could use latex disposable gloves instead.
It is important to clarify here that price is no indicator of value or the performance of a product. While the price is an essential factor, it is just one of a few considerations that should be used when making buying decisions.
In other words, beware of buy cheap buy twice.
Why are nitrile gloves more expensive than latex gloves?
The short answer is because of the manufacturing process and the chemical makeup of the Nitrile when compared to Latex production.
Although nitrile gloves tend to have a higher price point, they are often more durable, have a higher resistance to chemical exposure, and fewer people have allergic reactions to the compound.
This makes nitrile gloves the go-to product for many industries like engineering, mechanical, construction, manufacturing, electrical, plumbing, and of course, the medical fields.
As mentioned above, one key reason some people prefer Nitrile over latex gloves is the durability of the products when dealing in certain situations.
Even though they are classed as disposable, they tend to last longer when being worn for tasks than the cheaper latex versions.
They don't rip, tear or puncture as readily as latex products which if you speak with engineers, mechanics, or plumbers you will find out just how frustrating and expensive buying cheap gloves can be.
The extra level of durability is a big selling point for many. If you can source a good brand of nitrile gloves, it can make a massive difference to protection and productivity in specific jobs.
As a rule, if you don't want to be changing gloves after the slightest abrasion, then it may be worth looking at Nitrile over latex.
Although latex gloves are typically cheaper, in the current market they can be nearly 50% cheaper than Nitrile, does that price difference yield more value for your business?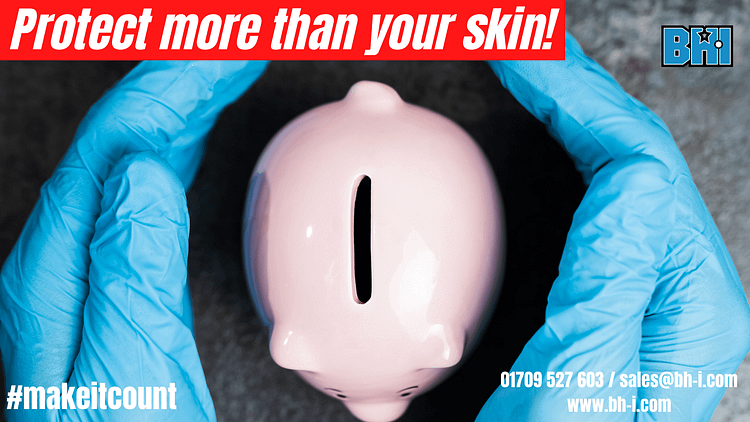 In other words, are you better off going with the cheaper gloves?
Well, that may depend on what purpose the gloves are needed.
Right now, people looking for "cheap Nitrile gloves in the UK", "disposable glove offers", "Nitrile gloves UK" "small Nitrile gloves", and "what's the difference between latex and nitrile gloves", "blue nitrile gloves" are probably looking for gloves to deal with the virus pandemic.
People who had requirements for specific gloves before the virus may be looking for a reliable and cost-effective source to buy from because there are a lot of suppliers selling these products at inflated prices.
If you buy the cheapest gloves you can find, will they do the job you want from them or will they be unfit for purpose?
If this seems to be where you are, we suggest calling a reputable supplier to discuss your requirements, to help you choose the right glove product at the best prices to deliver the performance and value your business needs.
You can search on Google for Nitrile disposable gloves UK where you should see a vast array of suppliers.
Any worthwhile PPE supplier should be able to streamline the buying process for you rather than point you to a website with 40 or 50 different disposable glove options to choose.
As you may be aware, the choices are quite extensive, which may lead to paralysis by analysis or simply put, too much choice.
They should be able to help you choose the right products that effectively provide a solution to an ongoing problem.
If they can't or won't provide you with a solution, give us a call.
Back to Nitrile gloves vs latex gloves, the choice should not be down to price alone as other factors need to be considered before the decision is made.
Latex gloves can cause allergic reactions in some people, which may mean you need to know if any of your staff have an allergy to latex.
If they do, then you will need to look for latex-free gloves which will narrow your choices down.
the question are Nitrile gloves latex free does pop up and the answer is yes, they are two separate compounds.
Skin reactions to nitrile gloves are rare, which is why a lot of businesses prefer them as they look to reduce the risk of reactions.
Sometimes the reaction to gloves can be down to the powder manufacturers coat the gloves in.
This powder is added to help people put the gloves on, but it can cause issues for some people on their skin or respiratory conditions, and that is something no one wants right now.
So, when you are looking for nitrile gloves, you may see adverts, links or posts for "powder free gloves" or "disposable nitrile gloves powder free" this is what that term means.
The downside to powder free gloves is they are a little harder to put on your hands, especially if your hands are a little damp.
The powder acts a little like talc, but some people find this to be an irritant hence the need to have powder free versions of the gloves.
Powder free gloves can add a little more on the price, but if you have staff with respiratory or skin conditions, this may be something you need to consider.
Luckily, you buy powder free nitrile gloves to help cater for any staff members in this situation.
It may help to trial both versions first before placing a large order if you have the time, of course.
Sometimes glove choices can boil down to preference for one product over the other, for example, some surgeons and medical professionals prefer the "feel" of latex gloves and double up layers by wearing two pairs on each hand to help protect from infections, tears and rips.
If you know there are no issues you can search for latex gloves UK and see what offers are available.
for example BHI have an offer at the time of writing of £6.00 for a box of 100 pairs of latex gloves
It can help for both latex and Nitrile to double up, especially if the main objective is to protect from infections or contamination's during the pandemic.
Risk assessments for your business should direct this situation.
What is the supply like for disposable gloves?
One essential element you will need to check before you buy any disposable gloves is the continuity of supply.
Considering we have just lived through major international supply chain issues for many PPE, safety equipment, and workwear products, it may be worthwhile checking that there is an adequate supply available and for how long.
If you need a regular supply of disposable gloves, it may be an advantage to know there is sufficient stock for your repeat orders.
We have seen some offers online that have a "great" price for cheap gloves, but there are limits to the amount you can buy, or the "great price" is only for gloves in extreme sizes like 2XL.
We've even heard of cases where "suppliers" were selling out of date stock, which if this is true, is just a little bit cheeky.
How to spot fake disposable gloves in the UK
Be very aware of people selling PPE products that are not fit for purpose and even in some cases, fake.
When you are looking at buying larger quantities of disposable gloves, it may be advisable to call the supplier to qualify the stock levels and potentially negotiate better pricing for bulk order deals.
You will find out if everything is as it seems when you speak with someone, and if possible, it may benefit you in the long run if you can put your eyes on the stock for yourself.
The reason we suggest this is because throughout the pandemic we have seen so many "suppliers" claim to have the stock on their warehouse floor, but when we wanted to see it they started making excuses or said that it wasn't there.
Some people have taken this virus situation as an opportunity to make a quick buck or to push their luck and taken quite a few organisations for a ride in the process.
It can be argued there is a lot of money to be made selling fake PPE like gloves and face masks, so be careful.
One thing to bear in mind, with this virus situation and the uncertainty that surrounds it, suppliers may not be able to make stock guarantees. Still, they should be able to keep you informed of any significant changes to supply and pricing before they happen.
It may be the case that they have a consignment of disposable gloves on sale, and when they are gone, that's it.
A solution to this is open communication to qualify the pain points and potential issues that may arise to help clarify and save you some time.
It's at this point we'll guide you to our newsletter sign up where you enter your email address, and we'll keep you up to date of all changes, offers, and useful information we send out regularly.
Your data is private, we do not sell it on, and it is protected under GDPR.
Finally, we have some questions we can quickly answer, that is if you are still reading this far down!
Can you wash nitrile gloves?
Yes, but why would you want to?
They are disposable for a reason, but if you are in a pinch, you can wash them gently in lukewarm soapy water.
We would not recommend this as a regular practice because it can impact on the protection and performance of the products.
Do nitrile gloves protect against viruses?
Both good quality latex and nitrile gloves protect against viruses and bacteria, which is why medical professionals typically use them.
Latex and Nitrile are both considered medical gloves with some considering them surgical gloves for this reason.
If you are working in environments that may have viral matter, we would suggest you refer to your company's risk assessment for glove and PPE use.
Where to buy disposable gloves UK
Depending on the quantities you can find them on Google shopping, Amazon, eBay as well as PPE supplies all around the UK. If you search "buy nitrile gloves near me" you should find local suppliers who should be able to guide you to the right products for your needs.
If you refer to the information above, it may help to avoid some pitfalls when buying.
Can you handle food with nitrile gloves?
Yes, Nitrile gloves are considered to be food grade and are the glove of choice by many food production companies the world over.
The last point we'll leave you with is a simple thought, what do you want from the gloves?
Sometimes people have certain expectations, and unless they are explored, they can lead to issues that could be avoided.
With so many brands making different nitrile glove products, you may be faced with a lot of choice as to whey glove to buy.
Is there any point in buying the cheapest option if they are not fit for purpose or don't last as long as a better option?
Is there any point in paying a premium price for a glove that has unique properties or technology that you don't need?
The answer is no to both those questions, but how do you know that?
Do you need latex or nitrile gloves? BHI can answer that for you
Right now, you can buy disposable nitrile gloves online for £9.99 or as high as £23.00 for the same spec glove.
It can be a minefield out there, and it is one BHI are keen to help guide people through and deliver more value.
Not just because that sounds good on paper but because BHI firmly believes we can help people during this testing time.
You do not need to be spending hours or days looking through websites trying to find the products that you need.
You can, but there may be a better way and one that will give you the time back to rebuild your business.
It would help if you found a supplier that works for you because it makes good business sense to build relationships based upon trust and assurance.
Any supplier that is not trying to help you right now is running the risk of being replaced with a team that will.
And that my friends is an excellent position for you to be in!
You need to find that supplier and test them to make sure they are as good as they say they are!
If we can help you further call 01709 527 603
Email sales@bh-i.com
If you 'd like to read more about how to find the best PPE & Workwear suppliers in the UK have a read of this post, or just call BHI and test us out!
BHI will make buying PPE & Workwear Simple, Easy, & Effective