What type of hand sanitiser does my business need?
How can I get the right sanitising dispenser for my business?
What type of hand sanitiser is the best?
Do I need an automatic hand sanitizing dispenser, or will a hand dispenser work as well?
I have a large office, what type do I need when we all return to work?
Will a 500ml bottle of 70% alcohol sanitiser work for an office?
Do I need alcohol-based sanitizing gel or is there another option?
How do I protect my skin after using alcohol-based sanitisers?
Don't worry, you're in the right place, and BHI have you covered.
We will help to answer these questions and make sure your objectives are met.
It's our job to help you cut through the waffle and get straight to what you need.
Now, if you're frustrated, under pressure, you don't want to read the whole article, and you just want someone to listen to you then give you the answers.
Give us a call – We get it!
People should be focused on getting their business back up and running, not spending hours reading articles about hand sanitisers.
Let BHI do the leg work, the heavy lifting, we will listen to your requirements then present you the best options.
Call us on 01709 527 603
Now, if you want to know more about the various sanitising machine solutions available, then please read on.
The questions at the start of this article are quite broad, but they revolve around the same topic, so let's run with it for now and break them down as we move along.
Do you need wall-mounted or portable sanitizing stations?
Firstly, what type of hand sanitizing station do you need?
Is it for your home or is it for your business?
What does your COVID-19 risk assessment state?
Do you need a 70% alcohol-based hand sanitiser gel?
Do you need an alternative hand sanitizer that is alcohol free?
Will you need refills for the sanitizing disperser units?
Will 5 litre hand sanitising gel bottles be enough?
Do you need larger quantities?
What type of volume will be using per week/month?
How did you arrive at this volume?
What are the best sanitising options to protect against COVID-19?
Is it a fair assumption that you may be looking for hand sanitisers to help manage the impact of COVID-19?
We'll assume so for this page, but the information is helpful even if it's for standard uses after the pandemic has resolved.
People are looking at the best way to reopen their businesses, travel to and from work, and the best way to stay safe during the current situation.
Part of this process is getting the right face masks, the right PPE, and the most effective way to kill any viral matter on contact with the skin.
So, let's say this now if you are looking for more useful information, advice or suggestions then give us a call.
BHI will help as many people as we can avoid buying unnecessary PPE, FAKE face masks, or products that won't help during the COVID situation.
Call us on 01709 527 603 even if it's just to check before you buy from someone else.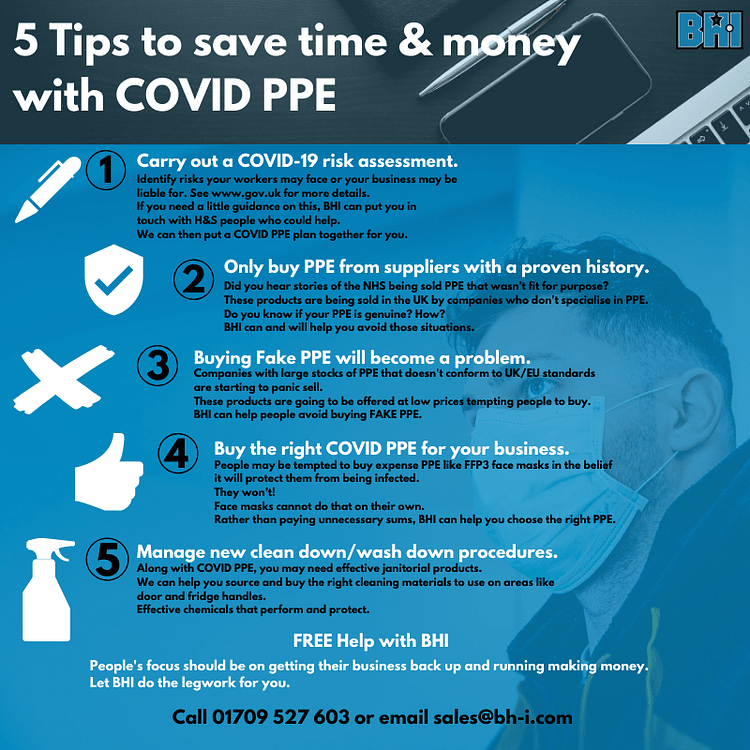 what are the best hand sanitising machines for offices in the UK?
Right, so what are the best hand sanitising stations for use in the UK?
You may be familiar with the squirty bottle of alcohol hand sanitizers, the 100ml types, or you may have even bought the 500ml bottles at a supermarket.
The question is, are these the best hand sanitising options for businesses?
The short answer is: No!
Re-ordering these smaller products can be a pain, and with supply issues still a challenge, it may not be the best idea for you or your business.
Running out of the 500ml 70% alcohol hand sanitiser gel happened back in March because demand outstripped supply.
This is where the larger volume 70% alcohol-based hand sanitizer stations come into play.
We're talking about the 5-Litre hand sanitiser dispensers, as they have much more longevity between refills and can cope with higher demand at operation sites.
If managed correctly, a business should have at least a month's supplier of sanitising gel to compensate in case of a drop in supply.
These larger dispensing stations are starting to make appearances throughout the UK and will become a standard in the coming weeks.
An argument could be made for supermarkets and public transport to start adopting the wall-mounted automatic versions of the hand sanitising stations.
These solutions will help to reduce bacteria, germs, and viruses in those areas, making cleaning more effective.
Where can I buy hand sanitising stations in the UK?
Now if you look on search engines you can find many different companies "selling" sanitizing stations, but BHI would advise looking a little deeper at those suppliers.
It's not always clear that what they are offering is actually what you may need.
Do you need alcohol-based hand sanitisers or do you require an alternative that can kill viruses?
How many units do you require?
Do you want to buy or rent these units?
Do you want to be locked into a supply contract for hand sanitiser for the next 1 or 2 years?
During this COVID situation, we have seen suppliers selling FAKE PPE or products that are unfit for purpose.
They took a gamble and now want to get their money back seemingly at all costs.
Is this the case with hand sanitising stations?
It may well be, so be careful when dealing with suppliers with no trading history in PPE, janitorial, or chemical products.
Now, without getting into the long grass let's keep things simple.
If you are looking to reopen your business in the coming weeks, you will need to get your ducks in a row to avoid any nonsense down the line.
We have some useful tips to help save time and money by avoiding some all too familiar missteps.
BHI's philosophy is to do the legwork for our clients, so they can focus on rebuilding their business.
With that in mind, and using your COVID-19 risk assessment, we can piece together the best approach for your business and remove potential pain points.
Which hand sanitising dispensers are best for my business?
Key to this is buying the correct hand sanitizing stations and the best sanitising gels to place around your business.
BHI has been working with large UK organisations, front line medical apparatus, and essential services to acquire the best solutions to manage the COVID-19 situation.
These technologies and supply lines are open to help businesses cope with the challenges they face.
You will see in the images that we have portable 70% alcohol hand sanitizing dispensers on offer from £110.00 ex VAT in the UK.
We also have an offer to supply the alcohol gels for as little as £4.00 ex VAT if you order 100 litres.
Do I need an automatic hand sanitizing dispenser?
The question is, do you need a hand pump dispenser, a foot-activated one, or an automatic dispenser?
We could help you with this question.
Is there any point in buying an automatic one, if a foot-activated pump will work just as well and is more cost-effective?
Remember the objective is to get the right product for your needs, to solve the challenge of COVID-19 protection.
It's not our objective to sell you the most expensive one or to sell you more than you need.
Now is the time to work with clients more as a partner, a provider that can help get them back to work as smoothly as possible.
This is why BHI will help any company who just wants to run ideas past us or to double-check they aren't buying unnecessary products.
Buying Hand sanitising stations near me
The next questions are:
How many staff do you have?
Do you have multiple entrance/exit points?
Do you have more than one kitchen area?
How many toilet areas do you have?
Do your staff use shared surfaces, things like Keyboards, handles, screens, apparatus?
What janitorial products do you currently use to combat virus and bacteria?
What are your procedures for cleaning down specific areas like taps, handles, fridges, kettles, tables, screens, and buttons/switches?
Don't worry, most people will be reading these questions and thinking "what?"
These questions should be covered in your COVID-19 risk assessments, but if they're not, give BHI a call we can either help guide you towards a risk assessment professional or help you manage the products that you need.
Is hand sanitiser effective against the COVID-19 virus?
Looking at the above questions, you may notice they are targeted mainly at staff and their interactions with communal surfaces.
This is specific because a lot of the viral and bacterial matter that builds up on surfaces is transferred through touch.
This viral matter can be eradicated with proper hand sanitising practice and protocols.
Some people think it will be enough to put more soap around the sinks, or maybe a bottle of hand sanitiser on their desks.
Well, it isn't, but it's a start.
An effective plan should be to have portable or wall-mounted hand sanitising stations located at the entrance/exits of a building.
People can sanitize their hands before they enter and as they leave the building.
This will reduce the risk factors of cross contamination or infections being brought into a business setting.
The next step would be to deploy these stations throughout operational areas like offices, or production floors, etc.
Luckily, most people are geared for self-perseveration, so a little nudge to get staff to use hand sanitising stations shouldn't be a hard sell.
It may help to ensure toilet areas are well stocked with soaps around the sink and that the toilets are kept extremely clean, to minimize the spread of bacterial or viral matter.
BHI can help with selecting the soaps you may need.
If you need dispensers for these soaps, we can show you options that will ensure high levels of efficacy and skin protection.
Ensuring staff get into the habit of thinking more about protecting other people first because it indirectly protects themselves, is a challenge for any company.
It's the same thing with face masks.
If people washed their hands and used hand sanitising stations throughout the day, the number of germs, bacteria, viral matter in the work areas would be greatly reduced.
This would have a cumulative effect of protecting people as we all build up our immune resistance.
Not only that, using hand sanitisers is good practice from a personal hygiene perspective anyway.
Are hand sanitizers bad for your skin?
One thing that has not been widely discussed is the aftercare or skincare required to protect people's hands.
If you look at your own hands, do they seem dry or chapped?
What condition is your skin in after all that washing and sanitising?
Has it looked better?
Do you think that is because of all the extra washing and sanitizing?
Washing with soap and alcohol strips our skin of the oils and good fats that maintain its health and protect against infections.
The COVID-19 situation has resulted in people washing and sanitizing their hands more frequently, this has led to their skin being compromised and possibly open to infections through microscopic abrasions.
The next thing business owners will need to look at is barrier creams to help revitalise and protect the skin.
After you have discussed and identified which hand sanitising station your business needs, it may be worth looking into aftercare solutions to head off any potential skin complaints.
It's better to save that time now before people use it to their advantage costing you money down the road.
Okay, that's a lot of information and if you're still reading, then just think of how my hands feel typing this thing!!
Let's conclude this now so you have the relevant information required to act with a reasonable level of certainty.
What type of hand sanitising stations will you need?
You may need to speak with your current PPE & janitorial supplier to work out the quantity and where the right applications will be needed.
If they can't help, give BHI a call, we can guide you towards the right solutions for your business to ensure the impact of COVID is minimised.
The important thing, from your perspective, is to find someone who can do the heavy lifting and present you with the best hand sanitizing dispenser options that allow you to focus on getting your business back up and running.
What type of hand sanitiser is the best?
This would depend on your staff and their reservations about alcohol.
If you have people who are sensitive towards alcohol hand sanitisers, then an alternative will be a preferential choice to opt for.
If there are no issues, a 70% alcohol hand sanitiser will be the default choice as it should kill any virus.
The only question you need to answer is the amount of sanitizer you will require.
Your current supplier should be able to help guide you on this but if they can't, BHI will be able to assess what you need and help you buy the right quantity.
Do I need an automatic hand sanitizing dispenser or will a hand dispenser work as well?
This is a question that needs to be assessed by speaking with a qualified janitorial, PPE, and hand sanitising specialist.
Your current supplier should be able to guide on this, but if you need more useful information, BHI is here to help.
It may be wise to opt for a combination of automatic hand sanitising dispensers at the entrance/exit points, and either hand or foot pumped dispensing stations throughout your location.
These can be portable, or wall-mounted, depending on what the requirements are.
I have a large office, what type of hand sanitizing station do I need when we return to work?
Again, BHI can help you select the right options to help you meet the requirements that allow you to function and focus on making money.
The objectives should be to ensure that the staff are protected, and they are protecting each other by using hand sanitising stations throughout the day.
It may be useful to have a single automated dispensing station per entrance/exit points, so they can clean their hands before entering your business.
You could use a wall-mounted station at key points, or buy several caseloads of 500ml pump bottles of the 70% alcohol-based hand sanitizers for use on peoples desks or work stations.
Will a 500ml bottle of 70% alcohol sanitiser work for an office?
Yes and no.
If you use these bottles on desks or shared workstations in conjunction with a dispensing station at key areas, then they will work.
If people enter your business touching several surfaces before they get to a desk to squirt the hand sanitiser, the contamination may have already occurred.
It can also be argued that placing a wall-mounted hand sanitising dispensing machine outside toilet areas would be a good idea.
People can sanitise before entering to use the facilities then wash with soap afterwards.
Do I need alcohol-based sanitizing gel or is there another option?
70% alcohol-based hand sanitizing gels are the default product most companies will look to use for the dispensers, but that is not the only product that is available in the virucidal range.
Some people would prefer to use alternatives to alcohol, the main thing is to find a suitable alternative that will still have the efficacy and destroy virus and bacteria on the user's skin.
BHI can help advise on alternative hand sanitizers to ensure this solution is the best one for a business with those preferences.
How do I protect my skin from overuse of alcohol-based sanitisers?
Whether you use soap or a solvent-based hand sanitiser like alcohol, your skin will be "defatted".
Over time this constant washing and sanitising will result in minor skin issues, irritations, or conditions like contact dermatitis.
Your current supplier should be able to advise on the most appropriate barrier cream to restore and protect skin exposed to abrasive chemicals.
If they can't, BHI can.
We have a great range of skincare products to help protect hands, so they aren't as susceptible to infections and abrasions.
Hopefully, this post has helped answer some of the questions associated with hand sanitising stations, machines, gels, and associated applications.
If you have any that we didn't cover, call us.
We are happy to help you during this challenging time.
BHI want to help people buy the right PPE and janitorial products for their requirements.
We don't like the current situation where some suppliers are trying to capitalise on the uncertainty by trying to sell people anything they can to make a quick buck.
Right now, is the time to build trust and assurance through help and guidance whenever and wherever possible.
Call BHI on 01709 527 603
Email sales@bh-i.com
Or fill in the contact form and we will respond to your requirements as soon as we can.